Casings and Housings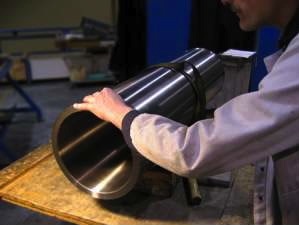 Casings and housings complement our line of seamless pipe.
Smaller OD casings and housing (2″ – 10″) are generally produced from extruded pipe.
Larger housings (11″ – 14″ OD) are produced in a process referred to as back extrusion.
In this process material is displaced from the ID of the part to form the OD.
The resulting product is exceptionally sound and for costly materials offers costs savings versus producing from solid sections.
A major application for this product is equipment housings for subsea applications.
Common Materials Back Extruded by Nu-Tech
Commercially Pure
Alloys
Titanium
Grades 1, 2, 3 & 4
Grade 5 - 6 AI - 4 V
Grade 23 - 6 AI - 4 V - ELI
Niobium
99.0 % & 99.9 %
Copper
Be - Cu