Electron Beam Welding Facility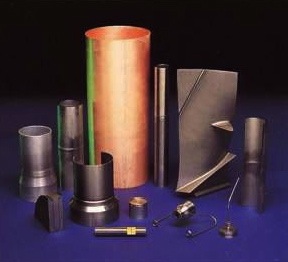 Nu-Tech Precision Metals Joining Technology Division operates Canada's only commercial Electron Beam Welding (EBW) facility.
This metal joining technology uses an intense narrow beam of accelerated electrons to fuse metals and dissimilar materials together in a vacuum sealed chamber, producing welds of the highest quality with extreme precision and speed.
The vacuum sealed chamber creates an environment of purity by eliminating any atmospheric contaminates. This enables the joining of materials that would be otherwise difficult to weld. High penetration welds can be performed in a single pass with minimal heat input, which reduces the amount of distortion of joined components.
Our Canadian Electron Beam Weld facility offers prototype construction as well as custom-designed fixturing to suit consistent, cost-efficient, high production.
Among the materials most commonly joined by our Electron Beam Welding process are Beryllium Copper, Copper, Aluminum, Hastelloy, Carbon Steel and it's alloys, Stainless Steels of all types, Titanium, Tantalum, Molybdenum, Nickel alloys, Hafnium, Niobium and Zircaloy.
Located just outside of Ottawa, Nu-Tech Precision Metals Joining Technology Division provides high vacuum Electron Beam Welding services to the Aerospace, Military, Offshore Drilling, Mining, Chemical, Manufacturing and Nuclear industries.
The Division is also supported with full metallurgical equipment for metallographic preparation and microscopes for weld analysis.
Contact us now to learn more about how our Advanced and Electron Beam Welding services can work for you.