Advanced Welding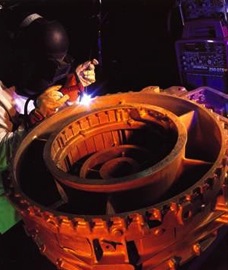 Nu-Tech is unique in our operation of Canada's only full commercial Electron Beam Welding facility providing the flexibility of specialized services in the complex joining of all types of precision components.
We also offer Plasma Arc and other state-of-the-art welding processes such as MIG (GMAW) and TIG (GTAW).
Nu-Tech specializes in welding Titanium, Stainless Steels, Magnesium, Zirconium, Tantalum, Hafnium, Hastelloy, Monel, Inconel, Platinum, Niobium, Aluminum, Copper, Beryllium Copper and other reactive and refractory materials.
Our unique welding services and Canadian Electron Beam Welding facility and expertise has established us as a trusted and reliable business partner to the industries of aerospace and aircraft repair, military, nuclear, chemical, construction, medical, mining and offshore drilling.
Nu-Tech Precision Metals provides Aerospace Welding services and is authorized by the TSSA for Nuclear Fabrication.
Contact us now to learn more about how our Advanced and Electron Beam Welding services can work for you.